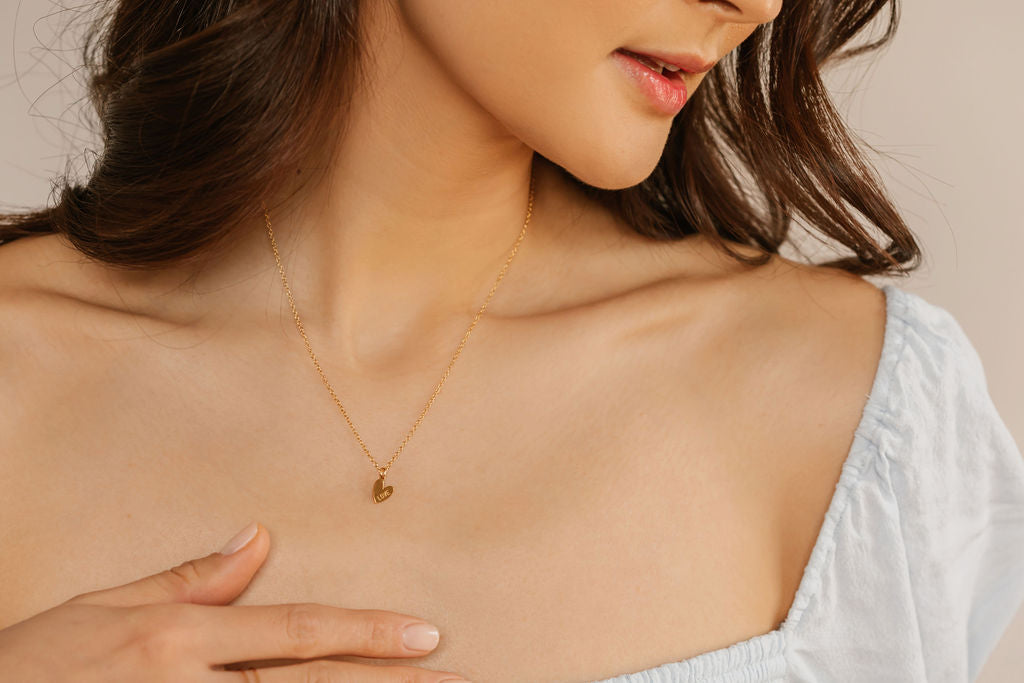 Care & Maintenance
We use only premium quality materials to ensure maximum durability and a luxurious high-luster finish. With care and a little maintenance, your jewelry can keep sparkling through the years.
Here are our top tips for how to clean and care for your MEIRAKO jewelry:
Proper Storage
This one is at the top because it is so important!
Exposure to moisture in the air can wear down your jewelry whether it be sterling silver, gold-filled or gold vermeil. No matter how high the quality of metals over time this exposure causes oxidation and discoloration. If you are not wearing it, then storing it properly is key! Follow these simple and easy storage tips and your jewelry will last a lifetime.
• Before storing your special piece, wipe it down with a soft cloth to remove any oils that may be on it from wearing it close to your skin. This will also help to remove any dirt and give it a fresh shine.
• Once it is wiped down place it in a small individual anti-tarnish pouch or ziploc bag. You'll want to make sure you get rid of as much air as possible before sealing it to prevent exposure to air.
• Whichever method you choose, the anit-tarnish pouch or the Ziploc bag, ensure it is not stored near a heat source and doesn't have any weight on it. This can cause discoloration and deformation.
If you are looking for anti-tarnish pouch for your silver jewelry, please check here.
** PLEASE DO NOT KEEP YOUR PIECE IN OUR JEWELRY BOX **
Our jewelry boxes are not anti-tarnished. The chemicals from the boxes can be a trigger for tarnishing. 
** PLEASE NOTE ANY TARNISHING CAUSED BY IMPROPER STORAGE, WE WON'T BE RESPONSIBLE."
Protect it from chemicals!
One of the quickest ways to tarnish your jewelry is by contact with harsh chemicals and liquids. This includes lotions, hand washing, perfume and sweating. 
To help protect your jewelry: 
* Wait at least 5 minutes after applying lotions or perfumes before putting on your special piece.
* Avoid wearing your jewelry in chlorinated pools or hot tubs. Not doing so can cause immediate discoloration.
* Remove any jewelry that may come in contact with household cleaners when cleaning.
* Even the PH levels in your sweat can cause a reaction with your  jewelry so never wear your jewelry when exercising. 
Clean It Carefully!
Clean with CARE! Cleaning vermeil jewelry takes special care not to rub off the outer layer of gold leaving the silver underneath visible. You don't have to be quite as careful with sterling silver and gold-filled jewelry, but the techniques and guidance for cleaning are the same. 
Here is what we recommend: 
* If you need to wash your jewelry, use lukewarm water and soft liquid soap. Avoid harsh chemicals and detergents. Dip your piece into the soapy water and, using your fingers gently rub away any dirt or debris. Rinse with plain water and gently pat dry.
* Do not use a brush or coarse fabrics to clean jewelry as this can potentially scratch the surface.
* If you notice a little tarnishing you can try using a jewelry cloth to remove the dark spots if washing it didn't do the trick. A jewelry cloth is pre-treated with special chemicals to help remove the tarnishing. But, be CAREFUL! Using it too much can actually remove the gold plating on gold vermeil pieces and rubbing too hard when using it, can also cause the top layer to rub off.
The cloth's special polishing and cleansing action works until the cloth is completely darkened. Do not wash the cloth. If you are looking to purchase a jewelry cloth we have them available here.
* If you notice hard-to-reach areas where dirt has built up or are having trouble removing tarnishing with the cleaning methods we have recommended, it's best to have your special piece professionally cleaned. They have special tools to get the job done!  If you have any questions about care and maintenance for your special piece email our team at info@meirako.com and we will be happy to help you. All of our jewelry is covered by our warranty for 60 days.